ChatGPT: It's Never Morally Acceptable to Use a Racial Slur, Even If Doing So Was The Only Way to Save Millions From Nuclear Annihilation
ChrisMenahan
Tue, 02/07/2023 - 01:57
Imagine you receive a video of yourself engaged in an explicit sexual act, with a demand to hand over money or else the clip will be sent to your family, friends and co-workers.
Only, it's not really you, but a shockingly convincing fake that looks and sounds just like you.
Your options are to pay up and hope the blackmailer keeps good on their word or run the gauntlet of convincing everyone — including strangers who find it online — that you're innocent.
Italy's Internet Restored After Nationwide Outage; Reports Of Global Ransomware Attack
MikeRivero
Mon, 02/06/2023 - 11:44
Network data from NetBlocks shows internet across Italy has mostly been restored after more than five hours of outages.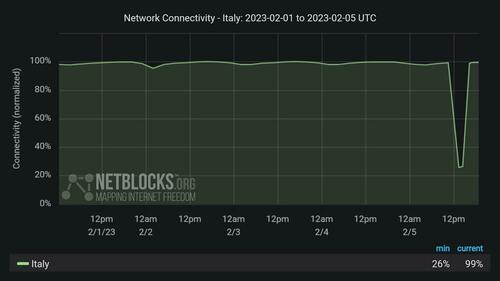 Searching Google for downloads of popular software has always come with risks, but over the past few months, it has been downright dangerous, according to researchers and a pseudorandom collection of queries.
Italy's National Cybersecurity Agency (ACN) said on Sunday that hackers had targeted thousands of computer servers around the world running on VMware "ESXi" software.
"No evidence has emerged pointing to aggression by a state or hostile state-like entity", an Italian government statement said, adding that no major Italian institution or company operating in critical national security sectors had been affected.
7 Linux Distributions to Replace Windows 11 & 10
malterwitty
Mon, 02/06/2023 - 08:42
There's a fresh blow for millions of Windows users this week and it could mean many are finally forced to upgrade their PCs. Google has just announced that its latest version of Chrome (named 110) will not be available to anyone running older Windows 7 or Windows 8 operating systems which means these devices will now be much more vulnerable to bugs and cyber attacks.
https://www.mozilla.org/en-GB/firefox/new/
The tech sector is failing at cybersecurity. Global spending on the stuff is at $190 billion a year, a quarter of the US defense budget. That hasn't stemmed an estimated $7 trillion in annual cybercriminal damages. People are fond of saying that the Wild West days of the internet are over, but on those numbers an 1875 Dodge City bank vault looks like Fort Knox.